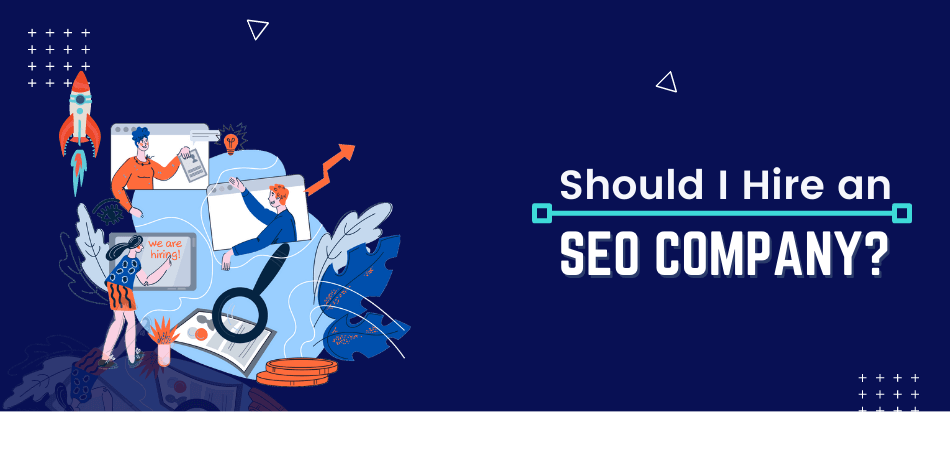 Let's face it, 75% of internet users only browse through the landing pages, which are on the first page of a Google SERP. In fact, the top organic results have an average of 28.5% click-through rate.
That means, if you want to increase your brand visibility online, you need to rank higher on search engine result pages. To ensure this organically, SEO is one of the most significant ways. It is a long-term process that requires several factors to strategize and implement the best practices to improve your business performance.
In this case, hiring an SEO expert will be the best possible option for every business owner. With years of experience and professional team members, the SEO service provider company in Bangladesh can bring your web pages in search results every time for a relevant search, help you reach your targeted audience, and improve sales.
So, if you are thinking about "should I hire an SEO company," this guide will clarify it. Let's start exploring why and how you should hire an SEO agency.
Is It the Right Time to Hire an SEO Company for Professional SEO Services?
We all are well aware of the value that SEO can offer to a business or website. But how do you know when is the right time to hire an SEO company for your business?
You should ask yourself the following questions to get the answer.
Do you want to grow your business online to generate more leads and sales?
Do you want to be unique in your industry?
Are you looking forward to outranking your competitors in the SERPs?
Do you want to make key products or services visible in Google's search results for relevant searches?
Are your internal strategies falling apart?
Don't have enough SEO knowledge and are unable to manage the latest SEO trends?
If your answer is yes for each question, then it is high time for you to hire an SEO service provider.
Why Should I Hire an SEO Company?
If you want to improve your ranking, traffic, sales, and ROI you should hire an SEO agency.
Let us explain in detail. There are about 200+ SEO factors that help search engines determine which sites should appear on search results pages and how they should rank. All of these factors are not equal; some are more important than others. So, if you want to rank top, you need to plan your SEO strategy considering your business type and most suitable factors, then optimize your site accordingly.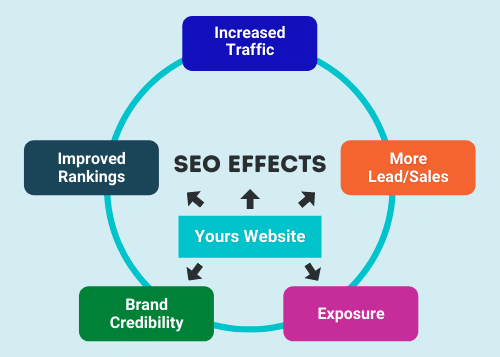 Keeping this in mind, no one can handle all these factors and implement them accurately, except the SEO experts. This is not the end; there are many more reasons for hiring an SEO company. So, let's dive into these reasons-
SEO Professionals Are Cost-Effective
When it comes to digital marketing, the two most common ways that you'll find are SEO and PPC. PPC is the fastest and the most expensive strategy that you may find difficult to continue, especially if you are a small business owner.
The reason behind this is once you stop investing, the traffic coming to your site will immediately stop. So, with PPC, you need to invest or pay continuously.
On the other side, SEO is really affordable and ensures long-term profits. SEO experts will optimize your site to ensure constant growth, continuous customer acquisition, and a long-term solution to bring consistent leads and sales.
Once your site is on the first page, search engines will generate high-quality traffic to your site with no further cost. So, working with an SEO agency will build your site so that it can bring new opportunities and sales to your business for a longer period.
Experience Speaks Louder
SEO is not a field where you can succeed with guesswork. If you are unaware of your activities or what you are doing, this can easily damage your site forever.
In contrast, SEO experts who have more experience, years of knowledge, and expert teams can make smart decisions and handle your site accurately to rank well and increase its visibility.
In general, SEO agencies work with different types of businesses from different industries. Therefore, they know what strategy will work for your business. SEO experts are capable of meeting your needs and expectations and providing you with a great return.
They Can Construct a Comprehensive Plan
One of the main reasons to work with an SEO company is that they can actually bring the best result for your business. A professional SEO expert will first evaluate your website, business goals, competitors and identify the issues.
This way, they will create a comprehensive plan to increase your online presence in the top search engines. Apart from that, SEO agencies also track consumer behavior so that they can plan accordingly to follow the right path to achieve more outstanding results.
Adjust Your SEO Strategy With the Continuous Algorithm Updates
Google is constantly rolling out new updates, which leads businesses to struggle to keep up with the pace. Each year, Google changes its search algorithm around 500 to 600 times and brings some major updates to its search system.
As mentioned above, Google uses at least 200 factors to rank websites; it actually makes small adjustments to these factors' algorithms dozens of times a month.
This is where SEO companies are helpful, as they can keep up with fast-evolving industry changes, have better knowledge, and work accordingly for your site. Thus,  it will be best to leave SEO to professionals with the continuous updates and upgrades of the search engine algorithms.
Expand Your Business Online With a Better Brand Image
Every business owner has a dream to expand their business. But due to lack of proper knowledge, budget, and other issues, they cannot go further. This is where SEO agencies come in handy to plan, execute, and manage your digital expansion.
The best SEO companies not only help your business expand, but also ensure building a better brand image. With proper SEO optimization, SEO agencies help your business get authority, achieve a target audience, gain trust, transform customers into potential leads, and ultimately ensure a better brand image.
Gain an Advantage Over Competitors
Many businesses like yours are trying to rank with the same service, products, and even similar keywords. Therefore, you should always focus on providing something better to stay ahead of your competitors.
To ensure this, an SEO agency will conduct competitor analysis and do proper research about everything your competition is doing to excel in SEO. This way, they can plan workable strategies, assist you to beat these competitors and make sure that your site can stand as an authority in your niche.
Turn Traffic Into Actual Sales
Every website wants to reach more and more traffic. But getting huge traffic doesn't mean you'll get huge sales. Remember, only the right or potential traffic will convert as a lead and generate sales for your site in the long run. Therefore, it's essential to reach the targeted potential customers of your business.
And no one can do this job so well as an SEO expert can do. An SEO Agency will not only help you to only bring more website traffic, but they also focus on bringing the "right" traffic. This is done by focusing on keywords that indicate "buyer intent".
Ensure Full Custom Optimization
Optimizing a site properly following all required guidelines and best practices of search engines requires a lot of research, time, and intensive hard work. That's why it's better to hire an SEO agency to handle this job accurately, as they are professionals, and they know what to do and how to do much better than you.
An SEO agency will focus on all these factors from keyword research to content development, optimizing your site with on-page, off-page, technical, and local SEO. Once they're done with the optimization, they will update you with regular reporting on site performance, ranking growth, traffic, (CTR), etc.
Retain the Unexplored Consumers
You can reach more and more traffic and make them your leads, but retaining all of them is the big thing. If your customers find you not worthy enough, they will not be interested in working with you. That's the main reason you need to ensure an optimum user experience.
A professional SEO company will ensure improved performance and better UI/UX of your site to provide more value to the customers and retain them for longer. Even if your customers like your service or products, they'll bring more new customers to your site.
No SEO-Related Errors
Google removes sites that include errors from the search index. Which results in increased user exits/bounce rate, getting hit with algorithm updates, or even getting a manual action penalty. So, you can't afford to make any mistakes or have errors on your site.
Partnering with an SEO agency will ensure reaching a promising place on the SERP with zero SEO-related errors. In fact, SEO experts constantly monitor your site for identifying problems, errors, and algorithm penalties to avoid them.
Better Return On Investment
Search Engine Optimization is not just about getting more traffic to your business website. It also involves reaching the right type of traffic that will convert into loyal clients. In this case, hiring an SEO professional will help your business to optimize for enticing prospective customers who are looking for your products or services.
Every dollar you invest in your SEO agency to optimize your site returns to you as a higher number of visitors, better conversion rate, and improved brand value online. This way, an SEO expert can provide a high return on investment for your website.
Focus on Overall Business Growth
As a business owner, you must have other engagements and multiple activities to look after. In this situation, you may not focus on SEO properly, which can lead your site to fall behind from the SERPs.
So, the best way is to hand over your website's responsibilities to an SEO agency. This way, you can minimize some of your burdens and explore other business opportunities and fields to develop and grow your business venture rapidly.
What Happens If You Don't Use SEO?
As we all know that SEO is a long-term process, it requires constant optimization according to the algorithm updates. If you choose to stop doing SEO and give up on hiring an SEO company, you're taking the risk of making errors that you can't erase and falling behind the companies that are using SEO experts.
As a result, you'll start seeing a drastic drop in rankings, less traffic, less online visibility, and improved bounce rates. Things will continue to get downward until you start using SEO. Here are some reasons that will help you to understand why you shouldn't stop doing SEO for your site.
When you're thinking about stopping SEO, your competitors are not. This means they'll get the chance to outrank your site and make the most out of SEO.
Google constantly updates its algorithm; therefore it's essential to adjust your site with these changes. And without SEO, it's not possible to stay updated accordingly.
Google prioritizes sites that perform better and stay updated according to its best practices.
Without SEO, you'll miss out on a lot of opportunities to reach potential traffic and leads.
75% of users only visit pages that appear on the first page of the SERP. So, without SEO, your site loses its ranking as well as the traffic.
Though you'll not lose everything overnight, you'll experience a gradual decrease in ranking and other factors. And over time, your site will vanish from the SERP. So, if you want to get the most out of your SEO, you can think about stopping it.
Factors to Think About When Considering an SEO Company
The global agency's SEO service market has grown by almost $40.92 billion in 2021 and is expected to reach $83.7 billion in 2025.
Since we are living in the era of digital marketing, you'll find several SEO companies everywhere. Thus, it becomes really tough to find out the most suitable and efficient one for your specific business. As only the right SEO company can act as your best companion or partner, you can't afford to go with the wrong one.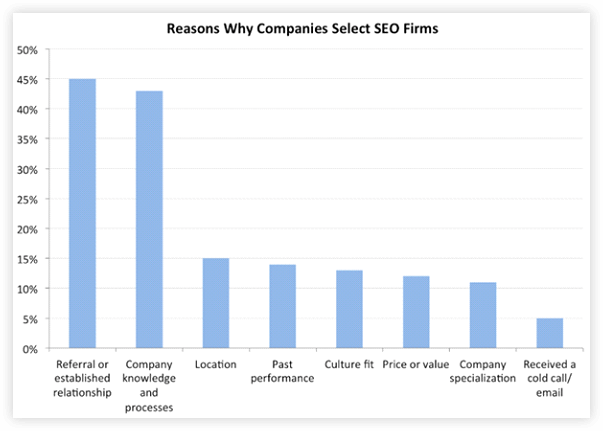 Therefore, to make the best choice, you need to consider some points while choosing an SEO agency. So, here are the factors for you-
Determine Your Needs and Goals:
The first thing that you need to do is to define your needs and goals. Only then you can move forward to choose the correct SEO company. So, start identifying which area you need to work, or do you require only some basic tweaks in your current SEO tactics, or do you need overall SEO service, etc., etc.
Gather All Relevant Information:
Once you identify what you require from an SEO agency and your ultimate goal, search out for companies. Then make a list of those which can align with your goals and offer you the specific required services. This way, you can narrow down your search list and pick out the top suitable SEO companies for your needs.
Visit Their Website:
After completing the shortlisting, you should now visit each SEO company's website. You should focus on gathering all necessary information about each agency. There are tons of data that you should focus on, which we'll cover on the following points. While gathering the information, make sure to look out for the recent ones.
Skills and Expertise:
When you think about working with an SEO agency, you're going to place a lot of trust and confidence in them as you're going to invest in this particular company. Therefore, it's essential to make sure that the company is skilled enough and has years of experience.
Find out everything about team members, their qualifications, experience, expertise, knowledge, and any other required things. You need to find out as much information as possible so that you can confidently invest your money and get the best possible result.
Look at Their Past Performances:
Performance does matter, and this is not just for the SEO agencies, but also businesses like yours. When looking for an SEO agency, past and proven performance matter the most. With proven records, you can go into a partnership with an SEO agency confidently.
So, you need to look carefully at what they have done and how they have done in the past to determine if they can meet your expectations. So, look at each company's portfolio examples, case studies, testimonials, and industry awards.
Take Reviews and Opinions:
The best way to know about a company is by looking at their online reviews, clients' references, and case studies. You can contact each company's past and current clients to preview their strategy, reporting process, strength, and weaknesses in this stage. You should focus on learning as much as you can from their clients before jumping into partnering with them.
Identify Their Techniques:
You can easily find out how effective an SEO agency is by seeing its performance indicator. Though they won't reveal all their details due to confidential clauses, at least they can show the techniques, SEO methods, and tools they use. Also, ask them to share their track records and campaign results.
Strong Transparency and Reporting:
Transparency is so important when you're going to work with an agency and build trust. An SEO agency that doesn't have transparency in their packages, techniques, and relatable factors, you can never trust that company.
Another factor is reporting; you need to ensure that whatever agency you choose should report you with the updates and changes they have made to your site. Apart from that, they should provide you with all the metrics updates for your site time-to-time.
Communication:
For the best SEO agency, it's a must to have excellent interpersonal skills and an effective way of communication. You should gauge this fact in your initial meeting or while first contacting them. Because communication will become more significant over time while working with an SEO agency.
Support:
Another fact is support. The best SEO agency should provide 24/7 support to its clients. Also, they should monitor your site even after the project is done and be ready to handle whenever any issue arises.
Thus, you should consider if the company has any after-sales support service or not. Make sure the company you choose comes with after-sales service, it's a must-have to avoid any sort of issues raised after completing the project.
Questions to Ask Before Hiring an SEO Agency
Finally, once you are done with the list of SEO agencies, it's time to move to the next step, which is interviewing the agencies. Here, you should prepare some questions to ask so that you can evaluate the SEO providers well. Also, in this way, you can find out the best suitable SEO agency for you.
So, here is a list of questions that you must ask an SEO agency. You can add more according to your need.
Do you have your own content writers, or do you outsource them?
What SEO strategies do you implement for your clients?
Does your SEO agency use white hat SEO tactics?
How will you adapt that strategy to our brand/business/industry/niche?
How do you know this will work for me?
Do you currently work with any of our competitors, or what is your experience in my industry?
Can you show some results from some of your previous clients and case studies?
How do you stay up-to-date on industry changes and Google updates?
How long will it be until we can expect to see results?
How do you conduct keyword research, link building?
What tools do you use?
What pricing model do you use?
How do you report on progress, and what does it look like?
Who would be my point of contact?
What are the terms of your contract?
If all the answers to these questions align with your requirements and suit your business needs, then the decision to hire an SEO company becomes easier.
Conclusion
If you want long-term success, hiring an SEO company will be an extremely effective decision for your business. They will use their experience to apply the advanced methods and tactics to ensure faster results as well as prominent ones.
Investing in an SEO company is valuable and worthy to get desirable results. We hope now you get the answer to "should I hire an SEO company" and the importance of SEO for your website's overall success.
If you found this guide useful, you can let us know by commenting below. Also, you can share your thoughts and queries with us. We would love to hear from you and answer your queries.
Sharing is caring!